Michael Gibbs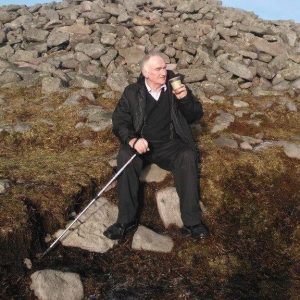 The late Michael Gibbs of the Forge, Ballypatrick, who passed away on the 20th August, at the age of 66, was a highly skilled blacksmith much loved by a wide circle of family and friends.
Michael who ran Gibbs Engineering LTD, died suddenly while attending a family wedding celebration in Co. Cork.
The huge crowd of mourners who attending his funeral were testament to his popularity and how he was renowned as a craftsman.
He was the son of William and Catherine Gibbs of Ballypatrick and left school at the age of 14 to join his father in the forge and learn the skills of blacksmithing.
Michael came from a long line of blacksmiths. His ancestors were master craftsmen, who came with the Cromwellian army in the 17th century. They settled first in Powerstown and moved to Ballypatrick in the 1880's where his great grandfather William set up the village blacksmiths forge.
Michael continued in the family trade and took over the family business following his father's death in 1978 and Gibbs Engineering LTD was set up. It primarily focuses on machinery repairs, making gates, agricultural sheds and general engineering. It boasts customers from all region and has worked on projects as far as England and Poland.
Michael was noted for his skill with his hands and was devoted to his craft. Outside of work, Michael was a very social man. He was well known in Ballypatrick, enjoying the odd pint and the craic with friends. He was a keen hurling fan and a proud follower of the Tipperary hurling team and his local Kilsheelan/Kilcash GAA club. He especially loved horseracing and had a share in a horse "Sir Laurence Gap" which won during autumn 2016 at the Tramore racing festival. Something Michael would have been immensely proud of.
Michael above all was a very kind man, who visited the sick in the community and supported local charities.
At his funeral, his nephew Billy who he was very close to, read the symbols of his life, a hammer, a horseshoe, a betting docket and a pint were the symbols which represented Michaels life. A life that was truly fulfilled.
May the sod rest lightly on him.